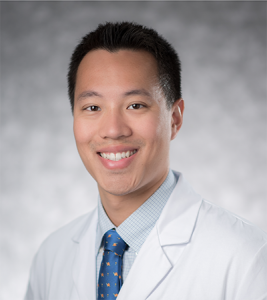 Primary Office:
3838 California St Ste 505
San Francisco, CA 94118
Phone: (415) 751-4914
Fax: (415) 751-1414
Secondary Office:
45 Castro St Ste 210
San Francisco, CA 94114
Phone: (415) 626-4900
Fax: (415) 626-4901
Postgraduate Training:

University of California, San Francisco – San Francisco, CA
Pediatric Otolaryngology Fellow,
Clinical Instructor, 2017 – 2018 June
University of Illinois College of Medicine – Chicago, IL
Otolaryngology Residency, 2012 – 2017
Education:
Medical College of Wisconsin – Milwaukee, WI
Doctor of Medicine
Northwestern University – Evanston, IL
Bachelors of Science w/honors in Communication Sciences and Disorders
Certifications:
Harvard Medical School Endoscopic Ear Surgery Dissection Course, HMS, 2017
Eustachian Tube Dilation System Certification, Acclarent, Inc., 2017
HIGHLY EXPERIENCED PROVIDER
Ready & Waiting To Assist
A UCSF fellowship-trained Pediatric Otolaryngologist, Dr. Lee's clinical interests include hearing loss, balance disorders of the ear, chronic middle ear disorders, snoring and sleep issues, nasal congestion, chronic sinusitis and pediatric head and neck masses. He is well-versed in minimally invasive surgical techniques to treat a variety of disorders including cutting-edge endoscopic ear surgery.
He graduated with honors from Northwestern University. He then earned his medical degree at the Medical College of Wisconsin before completing a 5-year Otolaryngology-Head and Neck Surgery training program at the University of Illinois.
He bases his practice on patient-centered and evidence-based medicine. Dr. Lee speaks mandarin fluently and tailors his practice to each individual patient's needs.
He is a member of the San Francisco – Marin Medical Society, the American Academy of Otolaryngology and the Alpha Omega Alpha Medical Honors society.
In his free time, Dr. Lee enjoys cooking and traveling with his wife and children. He is an avid sports fan and grew up rooting for Steve Young, Jerry Rice and the San Francisco 49ers.